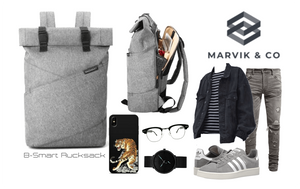 Backpacks: The new alternative to carry-ons
When it comes to the perpetual dilemma of carry-on luggage or travel backpack, it really depends on your travel needs and personal preferences. We can say with all honesty that we prefer the backpack option, not because we feel nostalgic about the good old school days, but because we find backpacks more practical and budget friendly when you're more concerned with over weight luggage fees. Most backpacks tend to be lighter than standard carry-on bags, smaller too. They are also more versatile, since you can easily take your backpack from the airport to the beach and beyond. 
The B-SMART Rucksack is ideal for those last minute trips that take you by surprise. It is waterproof and has room for a 15.6 Inch Laptop, with a convenient roll top and buckles. The lack of bells and whistles account for a more lightweight, unstructured backpack, which is exactly what you're looking for on a long hike or endless customs lines at the airport. The B-SMART is one of the best backpacks to sling over your shoulders, regardless of your destination. Load up your things and let's get going!
---