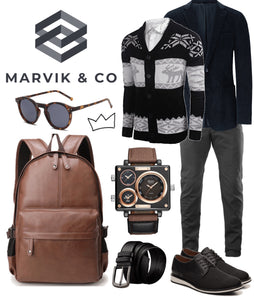 Fresh Holiday Men's Fashion
This holiday season, you deserve a fresh new sophisticated look. Leave the boring suit and tie behind and trade it in for a fun and festive cardigan paired with a velvet blazer and gray trousers. This combination is both comfortable and practical without lacking major style. Bring it all together with this Marvik & Co's Alastair Genuine Leather Men's Belt in black. Actually, you get 2 for the price of one, so you can mix and match the black or brown as you'd like. 
Adding to the cool factor of this look, are these amazing Marvik & Co Retro Vintage Round Fashion Sunglasses. They are an unexpected addition to your holiday look but they will add the perfect touch of modern class. Speaking of modern, this Marvik & Co OLM Unique Military Men's Watch is a new take on your standard time piece. It's shape and design make it stand out and will elevate your holiday look in an instant. 
What's the perfect outfit without the perfect backpack to carry all your belongings? That's why this Marvik & Co's Vormor Leather Men's Backpack is on this list. It's spacious and durable and will take you from work to play in seconds. 
This year, enjoy your holiday social calendar in style and be the life of any party with these versatile pieces! 
---